Big Steel Rack Systems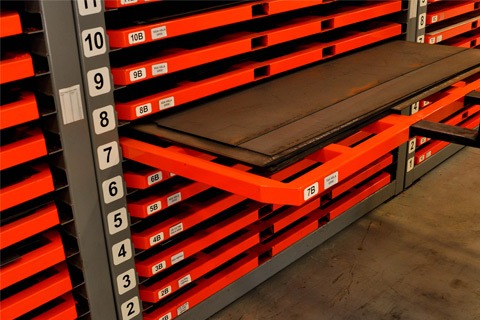 Sheet Metal Shelving System
Big Steel Rack is an innovative sheet metal storage system that makes it easy to inventory, store and find the sheet metal your business needs to operate. The flimsy shelving systems of yesteryear are no longer an option when efficiency and safety are paramount for today's businesses, and Big Steel Rack offers many benefits over traditional sheet metal shelving systems.
Big Steel Rack storage systems offer three main benefits, read on to learn more and see video of these unique shelving systems in action.
Increased Floor Space
More vertical storage
Greater density of storage
More storage per square foot
Superior Organization
Easily locate materials
No more mixed piles
Simple numbered grid system
Improved Safety
No more dropping sheets
Sharp edges and corners are protected
Single-operator material handling
If you're interested in learning more about Big Steel Rack Systems and getting a quote for your facility, contact us today.
Big Steel Rack Overview
Tube Rack by Big Steel Rack
Depalletizer by Big Steel Rack