Ready For A Machine Tool Demo?
The Demo Trailer Is Hitting The Road
Schedule Your Demo Today!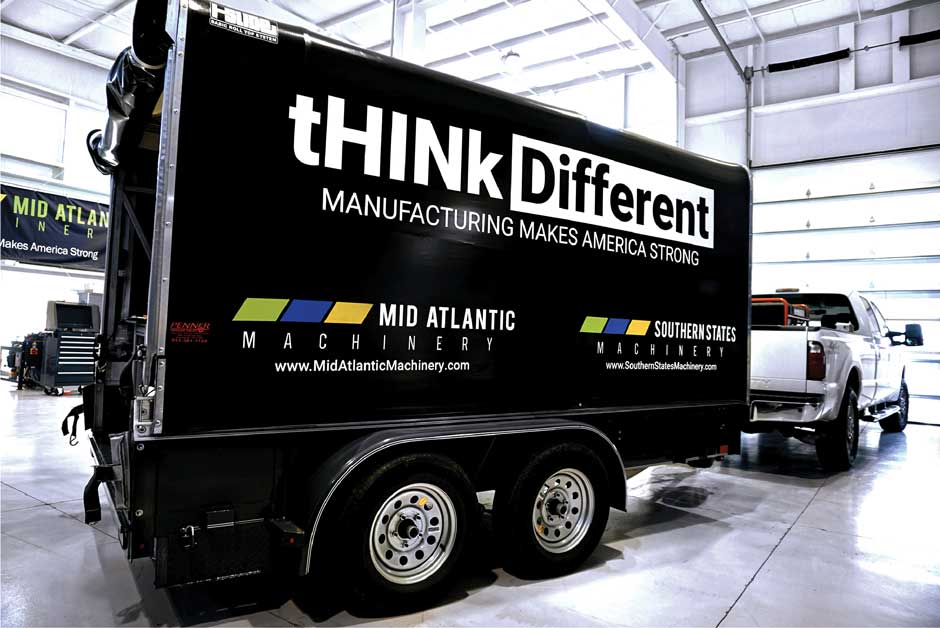 Prefer us to come to you? The Mid Atlantic Machinery machine tool demo trailer is a unique way to experience the latest machine tools first hand. Featuring an ever-changing assortment of the latest productivity-enhancing fabrication equipment, it's a great way to "try before you buy" and see how specific machines can impact your own unique production needs.
Home base for the fabrication equipment demo trailer is our Harrisburg, PA showroom, but every month it travels throughout our service area visiting customers along the way and demonstrating the latest, greatest machine tools.
From deburring to robotic automation and beyond, the following products are ready for you to experience when the demo trailer visits your facility:
Current Demo Machine:
Bend-Tech Dragon A400 plasma cutting, marking, and engraving machine.  Any design of holes and end cuts can be plasma cut on the Dragon A400. The machine marks clear bending instructions such as bend location, rotation, and degrees on the tube. For shops that fabricate with tube and pipe, the Dragon A400 is the essential tool for success
Demo Trailer Visit Video
Request An Appointment At Your Shop!
Contact our demo trailer expert Dallas Ricker to see where the demo trailer will be next and request a visit to your location using the form below. Simply tell us a little bit about what you're hoping to see, suggest a timeframe that will work for you, and we'll reach out to schedule a visit.
In Person Showroom Demo
We always have machines on our showroom floor in Harrisburg, PA for customers to experience and learn more about when considering an investment. Schedule a time to learn more, ask questions with the product specialist, and even test run your parts in a personal setting. We can also live-stream to your facility at a time of your convenience. 
We currently have:
ALLtra PG14 Plasma Cutting Table
Trumpf 1050 Press Brake
Trumpf 7036 Press Brake
Trumpf TruLaser 1030 fiber laser
Universal Robots 10E Press Brake Operator 
InspecVision Parts & Quality Inspection System
Bend-Tech Dragon for Tube and Pipe Plasma Cutting, Notching, Marking and Etching
HE&M Vertical Band Saw 
& More
Schedule a Demo Here!