FINISHLINE Deburring and Finishing Machines for Sale
All-in-One Deburring and Finishing Solutions
Mid Atlantic Machinery can bring you an all-in-one solution and is proud to be a FINISHLINE finishing and deburring machine distributor. FINISHLINE can provide deburring, edge rounding, oxide removal, slag removal, graining, and polishing with one compact design to the metal fabrication industry. Finishing machines from FINISHLINE can be tailor-made for your needs and are available in a variety of sizes with 1 to 6 working units.
FINISHLINE Machines Include a Number of Featured Processes:
Deburring and Graining

Surface Polishing

Edge Rounding, Oxide and Slag Removal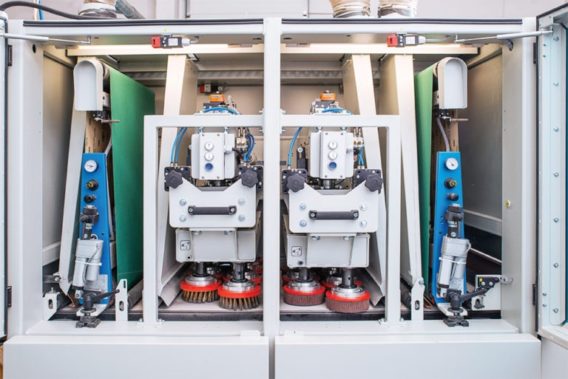 FINISHLINE deburring machines utilize intelligent design and quality components for finishing parts originating from laser cutting machines, plasma cutting machines, waterjet cutting machines or punch processes. 
If you're looking for optimal finish quality, refined results, and versatile application, FINISHLINE is your answer. Designed to meet your specific needs, FINISHLINE is for metal fabricators who are motivated to improve upon operational efficiency and part consistency. 
Contact us at Mid Atlantic Machinery today to send us your test parts, get more information or request a quote.
FINISHLINE | Overview Video