Flow Waterjet Cutting Systems
Innovative Waterjet Cutting Technology. Opportunity Awaits.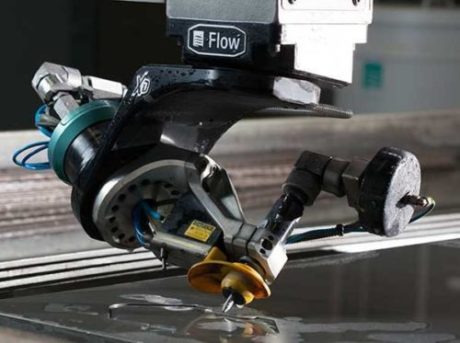 Flow takes abrasive waterjet cutting to new levels of speed and performance. By combining precision system components, a variety of advanced pump technologies, innovative software, and a range of sizes to fit your particular need, Flow has created the most versatile waterjets available to manufacturers today. With a Flow Waterjet Cutting Machine, opportunity awaits.
Flow waterjet cutting machines and systems can cut any solid material including stone, tile, glass, metal, foam, rubber, plastic, and food. When compared with other types of sheet metal cutting processes, waterjet cutting has distinct advantages. In addition to no heat-affected zones, no secondary processing, and unmatched speed and versatility, the benefits and applications of waterjet technology are seemingly endless. Mid Atlantic Machinery distributes Flow Waterjet Cutting Machines for sale, new and used. Check out VIDEO: A CLOSER LOOK AT HOW THE INDUSTRY LEADING WATERJET CUTTER IS MADE to learn more about waterjet cutters or check out our blog "Waterjet Cutting vs Laser Cutting" to learn if waterjet cutting systems is right for your applications and needs.
Waterjet Systems from Flow helps manufacturers maximize production with a lot of unique features.
Flow waterjet cutting machines use multiple types of pumps, Both direct drive and intensifier pumps add to their uncompromising versatility.
Advanced cutting heads expand capabilities. Their technology delivers multi-axis cutting and gives shops the ability to easily process precise bevel cuts, complex curves, or angle cut in a variety of materials.
Patented Flow technology exceeds the competition.  With faster cutting and lower amounts of abrasive, your cost per part is lower.  Saving you and your business time and money over the life of your machine.
Flow machines cut parts fast, with some customers reporting cut times 2-4x faster than conventional flat stock waterjet cutting machines.
Flow Waterjet Cutting Machines/System Series
Flow waterjets are manufactured in a variety of series, distributed and sold by Mid Atlantic Machinery; from their fundamentally versatile Mach 100 series to their heavy-duty Mach 700 series. All of their waterjet systems are engineered with the same components as Flow's premium cutting machines and systems, and filled with advanced features along the way. Contact us today to have our experts help you select the perfect Flow Waterjet Cutting Machine fit for your company.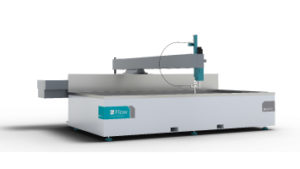 Mach 100 | Start Now The Mach 100 gives you the fundamental versatility of waterjet cutting with no frills. Engineered with the same components as Flow's premium cutting solutions, it features robust cutting capabilities and a programmable Z-axis for added flexibility.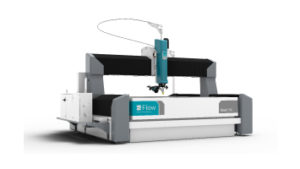 Mach 200 | Elevate Expectations The Mach 200 is specifically engineered to deliver value, reliability, and performance. The system is purposefully crafted to be a practical and flexible waterjet solution. Get capabilities reserved for elite waterjet systems with the Mach 200.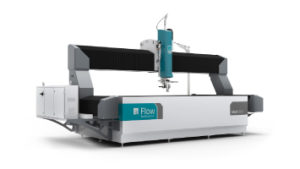 Mach 300 | Move Forward The Mach 300 is purpose-built to deliver reliable performance that you can depend on. The system is a no-nonsense waterjet solution that is efficient and practical. Combining advanced Flow waterjet technology into a small package, the Mach 300 minimizes impact on shop floor space – and your wallet.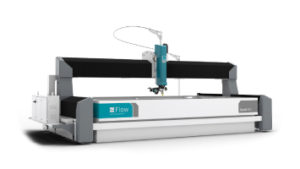 Mach 500 | Make More The Mach 500 is unmatched in accuracy, quickness and speed, making it your most productive solution. The system is revolutionary in terms of reliability and productivity, backed by the only comprehensive service program in waterjet. Uniquely flexible, the Mach 500 can be everything you want, or just what you need.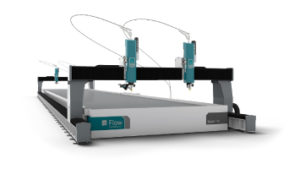 Mach 700 Series Waterjet | The Mach 700 waterjet is the ideal cutting solution for heavy industry. Available with a dual bridge, the Mach 700 series is a large format waterjet designed for demanding environments and exacting expectations. The ideal combination of size, speed, and accuracy: make a big impact on your bottom line with the Mach 700.
All Flow Machines feature state-of-the-art sheet and tube cutting technology from years of dedicated research and development.  Whether it's their part accuracy of up to .001″, options such as the Dynamic XD articulating head for true bevel and 3D cutting, or their patented DynaBeam laser sensing systems for automatic non contact height adjustments Flow waterjets are feature packed.
A Pump for Every Application
There are two types of pumps used today for waterjet cutting: the linear intensifier pump and the rotary direct drive pump. Both intensifier and direct drive pumps are capable of reliably delivering ultrahigh-pressure water for heavy-duty industrial use in today's manufacturing environment. Unlike the competition, Flow expands it's portfolio by offering both types of pumps resulting in 1000+ sizes and configurations to offer customers.
Rotary Direct Drive Pump
Rated up to 60,000 psi
The direct drive pump offers energy efficient, compact, and rugged design in a variety of configurations.
Linear Intensifier Pump
Rated from 40,000 psi to 94,000 psi
Flow's intensifier pumps are the most technologically advanced ultrahigh-pressure pumps and are dependable and proven to deliver ultrahigh-pressure where you need it.
Flow Waterjet Software: FlowXpert
With Flow's patented FlowXpert software, programming 2D or 3D models is simple, fast and accurate. With more intuitive programming your business will do more and make more with less effort.
Import your 2D or 3D file or design your own from scratch
Automatically clean up geometry issues
Path your part, FlowXpert automatically creates the most efficient path
Preview your part, the system will check for any cutting issues
Save your ORD file and send to the machine, FlowCut does the rest
40+ years of waterjet expertise packed into easy-to-use software that is at your fingertips.
Ready to increase your shop's throughput? Expand your shop's capabilities? Or Stop outsourcing part of your production? Then contact us today to talk to one of our team members, to learn more about the Flow Waterjet Cutting Machines for sale at Mid Atlantic Machinery, or schedule a time to cut sample parts in our showroom. We look forward to hearing from you soon!
VIDEO: Waterjet Cutting With Compass
VIDEO: Flow Waterjet + Joe Gibbs Racing: A Winning Team