GEKA Ironworker Machinery Distributor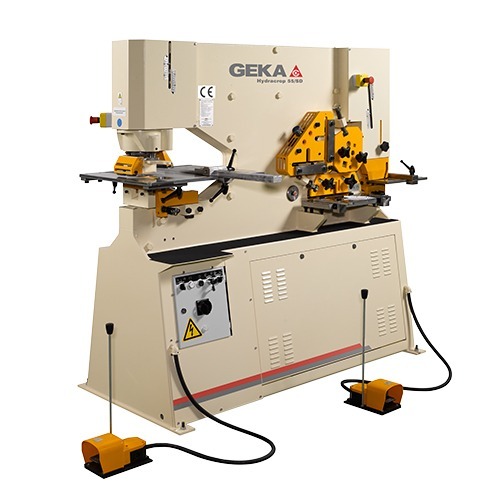 High-Quality Ironworkers for Fabricators
Geka has been manufacturing ironworker machinery since 1919. Thanks to their years of experience, Geka ironworkers have become an industry standard and are known for their durability, precision and operator-friendly features. Today, Geka manufactures a full line of equipment in a variety of sizes, ranging from simple manual ironworkers to the latest CNC automated machines. Read on to learn about the qualities that make Geka a leading brand and to see the Geka ironworkers we have for sale.
Experience
With over 90 years manufacturing ironworkers, they were pioneers developing ironworkers and yet continue adapting and improving them to meet the market and their clients' needs.
Quality
They machine all of their parts and tooling at their own factory, without outsourcing. This ensures quality standards that are much higher than others offered in the market.
Evolution
Their CNC solutions for automatic processing of profiles combines years of experience in punching and shearing with the state of the art electronics in order to offer to the market advanced machines with an excellent price quality balance.
Versatility
Their technical department can design and provide almost any accessory so that your Geka machine can accomplish a variety of jobs.
Research, Develop, Innovate
They constantly research, develop new products and technology and innovate so that they can exceed your expectations.
Ranging from simple manual ironworkers to the latest CNC automated machines, Geka has become a world leader with an expansive portfolio of ironworking machines.  With a variety of sizes, styles, and capacities be sure to contact us today to discuss how we can help you get the best ironworker for you unique application.
One cylinder Hydraulic Ironworkers
GEKA One Cylinder Punching Shears are designed to transform different sections and steel flat bars.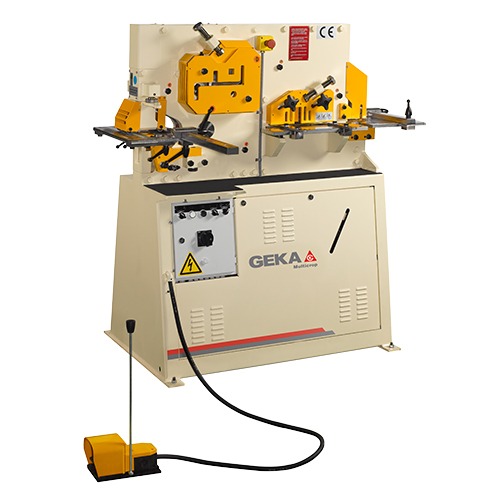 Microcrop, One-cylinder hydraulic ironworker with three work areas. Punching equipment from ø 1 7/16×5/16″ thickness, with blades for cutting with minimum deformation, rectangular notching and electric limit switches
Minicrop, hydraulic ironworker with 4 work areas.  This punching shears can cut at 90º with no deformation. Wide range of openings for cutting in ø and with no deformation. Gooseneck die-holder for punching profiles and legs and webs.
Multicrop, hydraulic ironworker specialized in cutting at 45º.  It includes a special station for cutting at 45º, on angular profiles as well as those inwards and outwards
Hydracrop Series, universal two-cylinder ironworkers
GEKA Two Cylinder Punching Shears are versatile machines with the capacity to transform a variety of materials, as well as the ability for two operators to work simultaneously.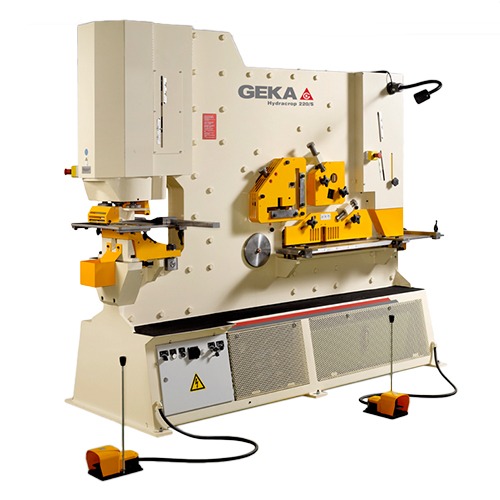 Hydracrop 55, universal ironworker with 2 work stations. Versatile and economic universal ironworker with 2 independent hydraulic cylinders, 2 areas and 5 work stations.
Hydracrop 80/150, Geka universal ironworker specialized in dies and profiles.  The HYD 80 disposes of a generous space between the coupling nut and the die-holder, suitable for punching profiles or installing small dies.
Hydracrop 110/180, universal ironworker recommended for working with base plates.  As well as the virtues of the HYD 80, this universal ironworker is highly recommended for the punching and cutting of base plates.
Hydracrop 165/300, universal ironworker for the most exigent production work. Universal Ironworker with 2 independent hydraulic cylinders, 2 areas and 5 work stations. Punching, notching, shearing flat bars, cutting plates and cutting bars.
Hydracrop 220/300, Geka universal ironworker high quality for steel and aluminum.  Punching shears that produce shearing and punching work of high quality in metallic structures and thick steel material.
Bendicrop Series
GEKA Bendicrop Series hydraulic ironworkers machines that incorporate a bending station to perform simple and safe bending tasks in a variety of cylinder systems
Bendicrop 85, hydraulic ironworker machine with bending station and system to avoid distortions when cutting plates.
Bendicrop 60, hydraulic ironworker machine with 2 cylinders and a bending station.
Bendicrop 50, hydraulic ironworker machine with 1 cylinder and a bending station.
Geka Puma Punching Series
GEKA Puma Punching Series a resistant machine able to meet practically all production and application needs.
Pumas Series, punching shears with 5 power settings. Ranging from 55 tons to 220 tons punching power with punching throats
PP Series, The PP50 portable punches have a 50 tons punching power and a 5″ neckline.  And Two models:

Model G for general punching of sheet metal
Model P with table with T channels, preferably suitable for self-assembling models.
If you're interested in learning more about our Geka distribution, contact us today to request a quote. We look forward to helping you specify the best Geka ironworker for your unique application.