Three Simple Tools that Will Save Your Fabrication Shop Time & Money
We're always looking for ways to help fabricators maximize output and increase profitability. So when simple, cost-effective tools come along that do just that, we get excited! Read on to meet three great tools that will help give your operation a competitive edge. And contact us today to learn more about these simple but effective ways to save time and money!
1. Aftermarket Saw Automation from TigerStop
TigerStop has developed a really simple solution to help shops get the most efficiency and accuracy from just about any saw. They make it easy to add automation to band saws, mitre saws, crosscut saws, ironworkers, and more.
TigerStop's automatic back-gauges, calipers and positioners can be easily retro-fitted to existing machinery in order to add precision automation that's as simple as the touch of a button.
Their systems offer automated push, pull and positioning of up to 2,100 lbs, with repeatable accuracy to within 0.2mm. So if you think automation could make your saw run faster and more accurately, TigerStop could be the perfect solution.
2. Speed Up Offline Tapping with FlexArm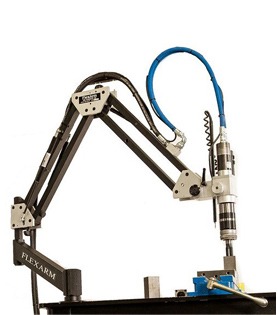 FlexArm helps keep milling and fabrication machinery working most efficiently by moving simple tapping and drilling offline. Using a hydraulic drilling head combined with an articulating, flexible arm, operators can easily tap, chamfer, ream, countersink, deburr and more.
The simple FlexArm system is quick, efficient, and reduces strain and fatigue on the operator. This means your shop will be able to keep your most profitable CNC equipment running while allowing technicians to quickly and easily perform tapping and more offline.
With features like auto depth control and 360-degree movement, the FlexArm system is a must for fabricators who want efficient tapping without tying up their prime CNC milling and cutting equipment.
3. Use Self-Clinching Fasteners to Maximize Productivity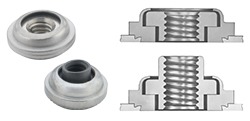 Haeger has pioneered equipment for inserting pem nuts and self-clinching fasteners. And if you're not familiar with their machinery, you're missing out! Haeger machines insert a variety of fasteners and compress them directly into a metal work piece, creating a bond that's durable and long-lasting.
Haeger machines can insert nuts, standoffs and other pieces of hardware that often take a great deal of time to process manually by welding or with other fabrication tools. This speeds up production, improves quality and helps forming and fabrication businesses fly through the hardware insertion process.
These machines are available in a variety of sizes, including machines that will allow the insertion of four different fasteners in the single handling of a part. Talk about maximizing productivity!
Ready to Learn More?
If you're ready to learn more about these or other tools that can help your metal fabrication shop save time, save money and maximize production, contact us today. We can help you identify the best machine tools for your specific need. We look forward to hearing from you!