Robotics Equipment & Solutions
As we continue to advance in this technological era, we see the need – more and more every day – for Automation and for Robotics Equipment and Solutions. Though Mid Atlantic Machinery is regional for many brands we represent, we have the capability to integrate automation solutions nationwide. Mid Atlantic helps define the many benefits and reasons of having robotics equipment, such as:
Increases the throughput on machines
Reduces labor costs
Fills skilled labor gap
Removes workers from unsafe work environments
Improves product quality
These collaborative robots provide cost-effective, flexible, and safe robotics solutions for a wide range of production tasks. Contact us today to learn more about Automation and how we can best suit your applications.
Robotics Equipment
Robotics equipment is multifaceted, in that it has many parts. There are a variety of robotics automation equipment options and types ranging from Fixed or Hard Automation solutions, to Soft or Collaborative Automation Solutions.
At Mid Atlantic Machinery, we offer both solutions in a variety of machine tools to meet our customers' diverse needs. From Miller Robotics fully dedicated automated welding cells to Prodevco and Kinetic's automated torch and plasma cutting, to Universal Robots' flexible collaborative robotic solution, we have the solution for you.
In addition to these machines, Mid Atlantic Machinery's universal robot press brake operator package combines the flexible and modular abilities of collaborative robotics to several fixed machine tools commonly found in fabrication shops worldwide.
Using Robotics in Manufacturing
Automation is currently used in manufacturing in several ways; Machine Tending, Material loading and unloading, Quality Inspection, Material Handling, Deburring, Finishing, Vision, Forming, Bending, Cutting, Inspection.
However, the common misconception is that the systems are high dollar and only shops who produce high volume can see a true ROI. Mid Atlantic Machinery's team of automation experts have the knowledge and know-how to provide automation solutions and capabilities to smaller job shops as well as larger OEMs.
Learn more about Universal Robots and our TRUMPF press brake operator package in our Thirsty For Knowledge Podcast episode.
EPISODE 01: UNIVERSAL ROBOTS & TRUMPF PRESS BRAKE
Capabilities Mid Atlantic Offers for Robotics
We provide application engineering service to automate our customers' processes by combining years of industry knowledge and staying up to date on the latest technological advancements.
We have a team of automation experts dedicated specifically to robotics and Universal Robots.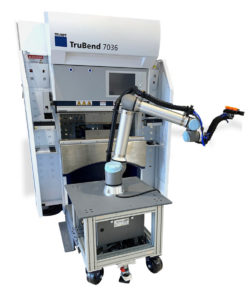 The team offers machine tool integration packages for a variety of machine tool technologies. Our latest automation solution is our Universal Robot Press Brake Operator Package which integrates the industry-recognized UR collaborative robot into virtually any press brake.
In addition, we provide fixed automated solutions to increase production and throughput for specific tasks such as plasma cutting and welding.
Manufacturing Solutions for Robotics
Larger fixed robotic applications currently include Plasma Cutting and Welding, large material handling, Mid Atlantic Machinery's Automation solutions include:
Finishing
Forming
Bending
Part Loading and Unloading
Machine Tending
Inspection
Vision
Our automation solutions include the above, as well as other custom applications found in a fabrication shop.
Our Competitive Advantage in Robotics Automation for Manufacturing
By combining our team of robotic specialists, expert application engineers and the ability to integrate automation solutions nationwide, we have years of experience in the machine tool industry, and we are uniquely positioned in the market to help a variety of fabricators in the sheet metal and structural markets.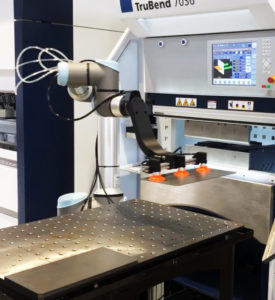 Mid Atlantic Machinery's strategic advantage comes from our collective experiences and ability to understand the areas in machine tool operation that can benefit from automation. We are not just a machine tool distribution company or robotics distribution company; we are an automated machine tool solutions company.
Our custom robotic solutions integrate the best of technology with the sound strategy to collaborate with your current fabrication processes. Our application engineers and robotic solution team continue to conceptualize and design turnkey automation solutions integrating both robotic and machine tools. To learn more about Mid Atlantic Machinery being a Robotic Automation Equipment Distributor, get in touch with us today! 
Get In Touch with Us