Buffalo & Rochester – Discover the Power: TRUMPF Technology | March 14th & 15th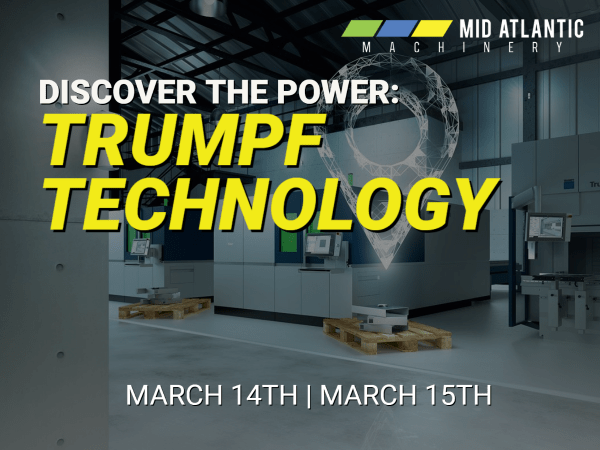 TRUMPF North America's product line is full of innovative, high-quality products and solutions that help manufacturers increase efficiency, reduce waste, and maximize both productivity and profitability. DISCOVER THE POWER of TRUMPF Machinery directly from the experts at a location closest to you.
This event will be an excellent opportunity to network with other experts and professionals in the industry. In addition to, learning about cutting edge technology that's helping manufactures grow!  
Join us for two days packed with exciting tech, food, drinks, and fun! 
Tuesday, March 14th | Buffalo, NY
Resurgence Brewing Company
55 Chicago Street
Buffalo, NY
2 PM – 6 PM
Wednesday, March 15th | Rochester, NY
Three Heads Brewing
186 Atlantic Ave,
Rochester, NY
2 PM – 6 PM
Featured Technologies from TRUMPF
TRUMPF TRUBEND | TRUMPF bending machines represent a wealth of experience and pioneering innovation. The extensive portfolio includes machines for die and panel bending technologies as well as large format bending machines and fully automated solutions.
TRUMPF TRULASER | TRUMPF Lasers have the flexibility to be used in a variety of applications, allowing for short processing times with ideal processing quality. Precision and a high level of automation go hand in hand in TRUMPF systems.
TRUMPF TRUPUNCH | TRUMPF Punching technology allows for complex, three-dimensional sheet processing with the goal of complete processing on a single machine. In addition to fully rotatable tooling, there are various components available for our punching machines from simple CNC punching all the way up to fully automated plants.
TRUMPF TRULASER TUBE | Tubes and profiles are used everywhere – from mechanical engineering and system construction all the way to the furniture industry. Lasers have opened up new design possibilities, so more and more designers are taking advantage of the benefits of laser-cut tubes and profiles thereby considerably increasing demand.
Additional Technologies 
FINISHLINE | Deburring, edge rounding, oxide removal, slag removal, graining, and polishing with one compact design and with one economic investment. Achieve increased operational efficiencies and superior quality with FINISHLINE.
Mid Atlantic Machinery Automation | Mid Atlantic Machinery Automation develops and distributes high-quality, high-performing robotic operator packages and robotic automation solutions that can easily and affordably integrate nearly all manufacturing processes, expand production and grow the bottom line in any operation – from small job shops to large-scale OEMs.
Event Schedule:
2-2:05 – Introductions, Jim DeCarlo and Jim Rogowski
2:05 – 2:30PM TRUMPF TruBend Press Brakes, Bending Cells, Panel Benders, Greg Gerard
2:30 – 2:55PM TRUMPF TruLaser, James Gamache 
2:55 – 3:20PM TRUMPF TruPunch, Daniel Pfisterer
3:20 – 3:45PM TRUMPF Tube Laser, Adi Buerkler
3:45 – 4:10PM TRUMPF Welding, Jevon Bauman
4:10 – 4:35PM FINISHLINE All-in-one Finishing and Deburring, John Rutkiewicz
4:35 – 5:00PM MID ATLANTIC AUTOMATION Collaborative Robot Integrations, Joshua Mayse
5:00 – 6:00PM Networking, Q&A, Food, Brews