Steel Tech Expo – Revolutionize Your Future
Thank You For Visiting Us At Steel Tech!
Our 16th Annual Machine Tool Expo was a huge success with more than 600 guests in attendance. We hope everyone who made it was able to take home tips, tricks, and best practices to help their business in the year to come. With packed seminar rooms, interactive demos at the machines, and plenty of food, fun and prizes we couldn't have asked for a better event.
If you couldn't make it, or just want to recap some of the excitement read on for show highlights and be sure to mark your calendar for next year's event!
Featured Machines | Educational Seminars | Highlight Gallery
Featured Machines
The Next Evolution of Robotic Automation | Attendees learned how to Automate press brake operations from Josh Mayse, one of Mid Atlantic Machinery's Application Engineers. With a robot handling repeatable tasks businesses can start to find innovative and profitable solutions to low unemployment numbers, unsafe and dangerous tasks, and the skill gap.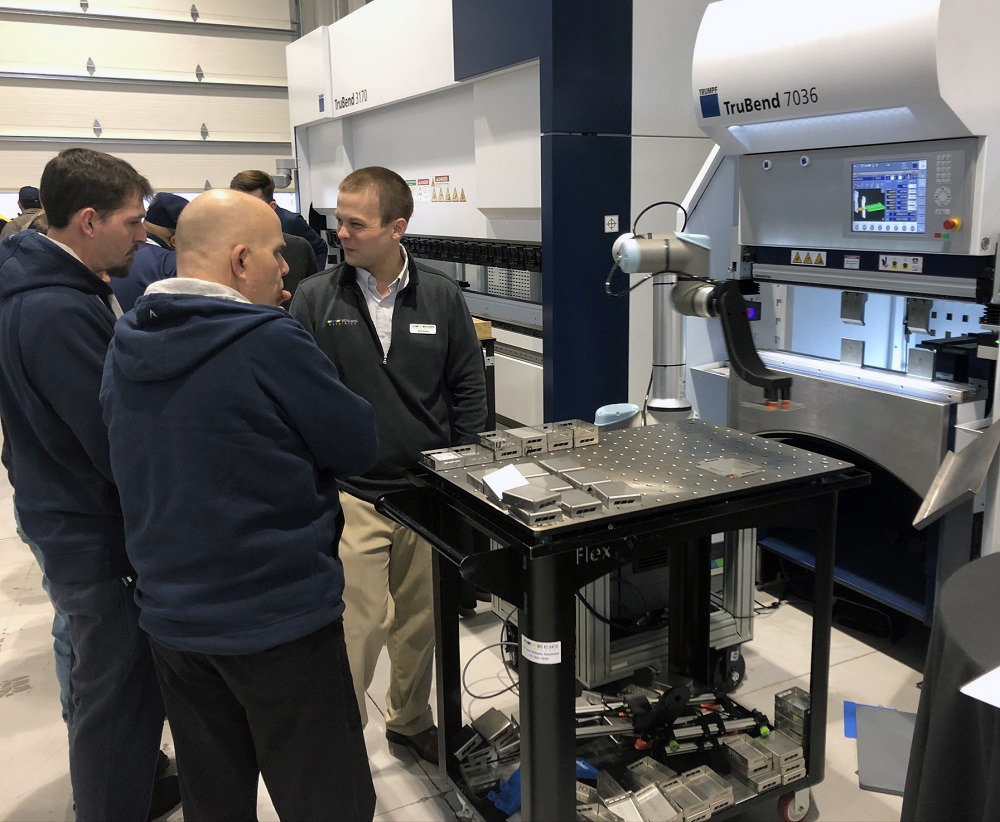 Improve Accuracy in 2D & 3D | The expo featured the state-of-the-art InspecVision system, and attendees were amazed at the speed and accuracy at which it could scan their parts.    Whether it was reverse engineering a part, scanning 3D surface measurements, or quality control applications InspecVision is a great fit for a variety of Fabricators. When time is reduced without sacrificing accuracy, manufacturers can realize huge gains in profitability.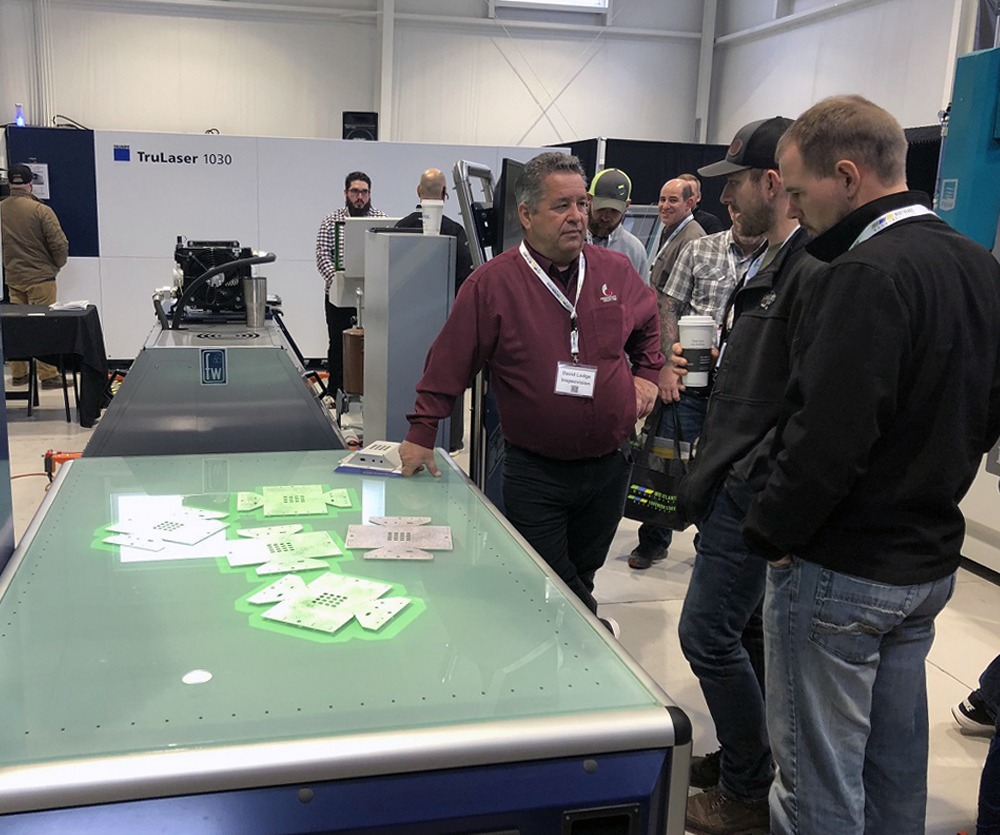 Secondary Processing All-In-One Solution | One of the newest brands to make it into the show was FINISHLINE and attendees were blown away at the versatility and robust features of the machine. Whether it was heavy dross removal or near perfect finished surface graining attendees learned how the FINISHLINE machine could help their business with downstream processes and give them the ability to offer a true value added service to their customers.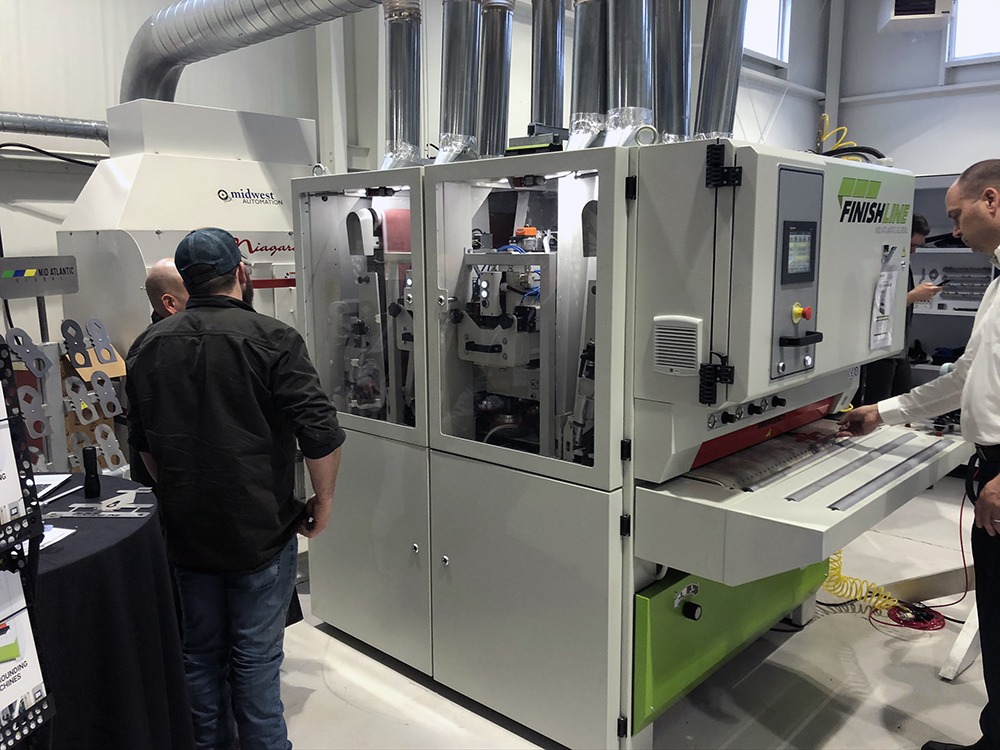 Educational Seminars
Seminars Were At Capacity All Week
The daily seminars from industry leading brands taught fabricators of all types how to think differently about their business and maximize their profits in the year to come. Some of the most exciting and highly attended were:
CNC Routing….Open Up New Frontiers
Learn how to gain a new competitive edge in machining aluminum and non-metallic material with C.R. Onsrud
Feed the Beast: High Speed Fiber Laser
The latest from TRUMPF Fiber Laser Developments in speed, automation and throughput
Flow Waterjet Cutting – When And Why?
Waterjet Cutting to create new business opportunities like thick aluminum, rubber, UHMW and eliminate heat affected zones from thermal cutting
The All-in-one Solution for Deburring
Deburring, Edge Rounding, Oxide Removal, Plasma Dross & Finishing with leading edge machinery from FINISHLINE
CNC Burning & Pipe Plasma Systems
Learn about the latest developments in burning of plate and pipe technology from ALLtra and Bend-Tech
And Many More
Contact us today if you would like to get more information on any of the seminars that were held during the show.
Highlights from Steel Tech
Thanks to all those who attended, here are a few images from from the showroom of customers, vendors, family and friends enjoying Steel Tech.
Special Event Announcement
The show doesn't have to be over! Contact us today for personal showroom demos
Even though Steel Tech is over, the machine demos don't have to stop! We have a showroom that is still full of the latest technology for you to come in and see.  Contact us today to see which machines are still available and to schedule your personal demo with a industry expert at the Mid Atlantic Machinery Showroom!