Steel Tech 2023
From Automation and Industry 4.0, to maximizing process efficiencies and reducing labor reliance, our industry is rapidly evolving, and so its technology. Through all of these changes, we remain committed to helping our customers succeed and compete in a global marketplace, and are excited to announce that our annual machine tool expo, Steel Tech 2023, is back!
If you're looking to invest in new technology, or just want to stay informed on the latest advancements in the manufacturing industry, clear your calendars for February 7th, 8th, 9th and join us at our Harrisburg, PA facility just miles from the Great American Outdoor Show.
Read on for more details, and RSVP today for what one business owner called a better use of his time than Fabtech.

EXHIBITORS & DEMOS
For our biggest show yet, Steel Tech will feature over 30 powered machines from industry leading brands. Attendees will learn how to dramatically advance their business, stay competitive and revolutionize the future of their company.  If you're ready to see the latest metal fabrication machine tool technology from precision sheet metal processing to structural, and steel/plate fabrication, all under one roof, this is the event for you. 
EDUCATIONAL SEMINARS SCHEDULE
AUTOMATION, BENDING, FORMING, CUTTING, ROUTING, FINISHING, SOFTWARE & MORE
Whether you are a business owner or newer employee, take advantage of the opportunity to learn more about your specific area of interest(s) in one location.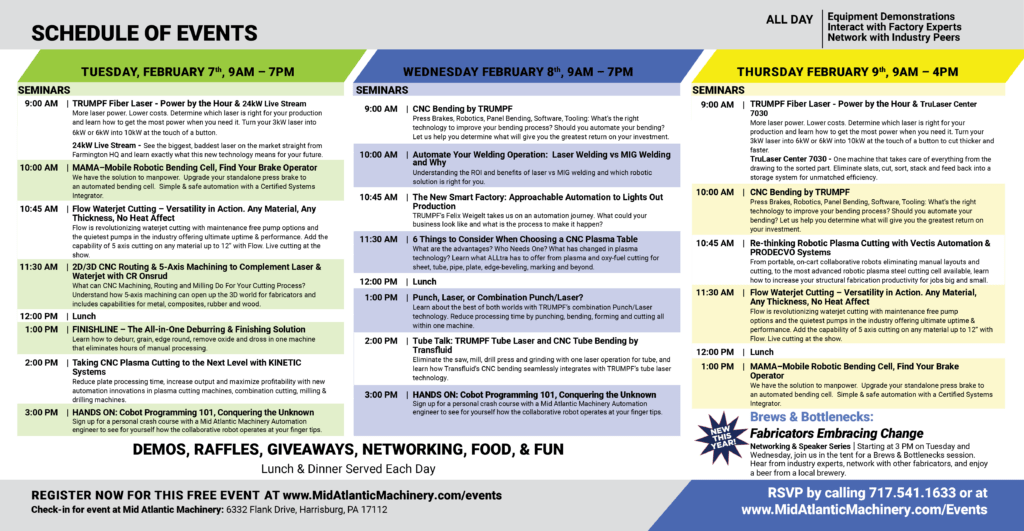 Click here or the image above to download the Seminar Schedule
HANDS ON: Cobot Programming 101, Conquering the Unknown
Sign up for a personal crash course with a Mid Atlantic Machinery Automation Engineer and Universal Robots expert to see for yourself how the collaborative robot operates at your finger tips.
Sign up for you personal cobot session here!

You won't want to miss Steel Tech 2023. RSVP in the form below.